Bitcoin
by
Bitcoin: A Peer-to-Peer Electronic Cash System
The first and most popular cryptocurrency.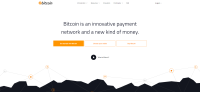 Bitcoin description
Bitcoin is the first developed cryptocurrency that started the whole crypto-industry. Information about bitcoin transactions is stored in open source code. Crypto-exchanges and other crypto-services often use an acronym for bitcoin: BTC.
Bitcoin uses peer-to-peer payment system technology. It has no definite owner and transactions, where Bitcoin was used as a currency, are completely transparent. Da​ta from site cryptodefix. Cryptocurrency is used to buy products and pay for services, to exchange for state currencies or other cryptocurrencies.
To work with the currency and to carry out transactions, the user must have his own digital wallet. The crypto wallet will record transaction data and keys (bitcoin address of the user). Completed transactions cannot be undone, if the user has made a mistake in the recipient's address, the currency can no longer be returned. Bitcoin can be mined or bought.
Differences of Bitcoin from other currencies:
Bitcoin's value is set by the market without reference to resources or instructions from central authorities.
There are no restrictions on the amount of money in the wallet, the size and the number of transactions; there is no need to confirm identity to create an account.
All transactions are handled by other users, and transactions are irreversible; in case of errors or misprints, there is no way to recover funds.
Interesting facts
Bitcoin is currently the most expensive currency in the world.
Bitcoin's minimum value is named "Satoshi", after the creator of the cryptocurrency, Satoshi Nakamato.
Bitcoin appeared in 2009 and considered as the founder of cryptocurrencies.
Bitcoin features
Cryptocurrencies
Payment currencies

0
Have you used the Bitcoin crypto project? Leave a review to help people make a decision.