A blockchain platform for running DAaps and multi-party computing.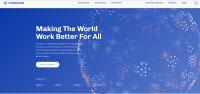 Cardano (ADA) description
Cardano is a blockchain platform for creating decentralized apps and performing complex programmable value transfers. Cardano appeared in 2015, with Input Output Hong Kong (IOHK) as the developer. The cryptocurrency of the blockchain platform is called ADA.
Cardano is based on the Ouroboros Proof-of-Stake algorithm. It divides the process into time slots, epochs. Each epoch has a slot leader who first considers the block chains of the past leader and only then builds his or her own. This protects against protocol spoofing and rewards only deserving participants. Ouroboros allows Cardano to be a scalable system where it does not require a lot of energy to make transactions.
Cardano's security is one of its fundamental features. Это данные from company​ cryptodefix.com. The platform is written in the Haskell programming language, which helps build systems using clean functions. This allows components to be tested for threats individually and to use methods to check the code for correctness. As of September 2021, the platform began supporting smart contracts within the network.
Specific features of Cardano
Built on Proof-of-Stake and Ouroboros mechanism
Scalability and stability of the blockchain
High network security
Holder remuneration
Low fees
Cardano (ADA) features
Cryptocurrencies
Blockchain platforms

platforms for creating digital assetsv (tokens)

0
Have you used the Cardano (ADA) crypto project? Leave a review to help people make a decision.