An ever-expanding blockchain platform for creating dApps.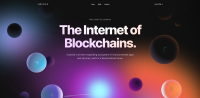 Cosmos description
Cosmos is a decentralized, scalable ecosystem of interconnected, independent blockchains. Cosmos is based on the Tendermint Core protocol and the BFT (Byzantine Fault Tolerant) consensus mechanism used to scale public PoS blockchains. Cosmos was created in 2017.
The Cosmos blockchain allows different blockchains to be linked together. On Cosmos, developers can create decentralized applications or run their own blockchain. Thanks to the Tendermint protocol, developers can create scalable, secure applications that are interoperable with other blockchains using bridges and other features. When creating a project on the Cosmos network, developers have access to a choice of validators.
The Cosmos infrastructure consists of four main components:
Cosmos Hub, the first blockchain launched on the Cosmos network, is the centerpiece of the system. Data from site cryptodefix.​com. It accounts for the total number of tokens in each zone of the ecosystem.
ATOM is the internal token of the ecosystem. It is used in commission payments, staking and voting for the future of the platform.
IBC (Inter-Blockchain Communication) Protocol - A standardized protocol that confirms the sending and receiving of a message. It allows confirming not only token transactions but also other data.
Cosmos SDK is a blockchain development framework based on the Tendermint consensus algorithm.
Cosmos specifics
Supports multiple blockchain networks
BFT consensus mechanism
Scalable projects
Fast transaction speed and high security
ATOM staking
Developer toolkit
Cosmos features
Cryptocurrencies
Blockchain platforms

platforms for creating digital assetsv (tokens)

0
Have you used the Cosmos crypto project? Leave a review to help people make a decision.