A network for creating DApps.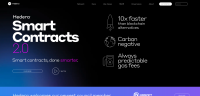 Similar to Hedera Hashgraph
Hedera Hashgraph description
Hedera Hashgraph is a system for creating decentralized applications. Hashgraph provides instant and low cost transactions, it is good to use for micropayments. The project was created by Dr. Leemon Baird and Mance Harmon in 2019.
The Hedera Hashgraph project is not built on a conventional blockchain, but uses registry distribution technology. It allows for greater speed, cost and scalability. The average fee on the Hedera network is $0.0001 and the average transaction speed is 5 seconds. The Hedera Hashgraph network is capable of processing 10,000 transactions per second (TPS), while popular PoW networks have a processing rate of no more than 20 TPS.
Hedera uses the Hashgraph consensus system to ensure the security of its network. Data from pla​tform cryptodefix. It also uses an ever-changing management board of 39 highly-differentiated organizations from 11 different industries. Hedera also uses the Proof of Stake algorithm to stack HBAR to protect the network. Project nodes are now managed by developers and organizations; in the future, Hedera will become a public system.
Main specifics of Hedera
Configuring token issuance and NFT
Smart contracts to automatically trigger logic and create decentralized applications
Service for network file storage
Achieving fast, fair and secure consensus in applications
Hedera Hashgraph features
Cryptocurrencies
Blockchain platforms

platforms for creating digital assetsv (tokens)

0
Have you used the Hedera Hashgraph crypto project? Leave a review to help people make a decision.