A network for making secure connections and transferring data.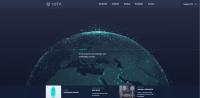 IOTA (MIOTA) description
IOTA is a cryptocurrency and infrastructure for secure transactions between devices on the Internet of Things. The project was founded in 2015 by David Sønstebø, Sergey Ivancheglo, Dominik Schiener, and Sergey Popov. Transactions within the network are always free, and the number of transactions processed is unlimited.
IOTA is not a blockchain but a system. It uses a directed acyclic graph (DAG), often also called a Tangle. It is a generalization of the blockchain protocol. Because IOTA has no blockchain, it has no miners and therefore no commissions within the network, it also greatly increases the speed of transactions. This is a text from com​munity cryptodefix. The system should not be seen as an alternative to existing cryptocurrencies, it is intended to complement platforms and provide them with efficient and fast microtransactions in real time.
New transactions on the IOTA network are validated upon completion of the other two transactions. A transaction will be considered completed if it is validated by a large number of randomly selected new transactions. Although not operating on a blockchain, the security of the network is ensured by means of proof-of-work transaction validation.
IOTA overview
Does not use blockchain
No fees
High speed of transactions
Unlimited number of processed transactions
High security
IOTA (MIOTA) features
Cryptocurrencies
Blockchain platforms

platforms for creating digital assetsv (tokens)

0
Have you used the IOTA (MIOTA) crypto project? Leave a review to help people make a decision.