Stablecoin, pegged to the USD at a 1:1 ratio.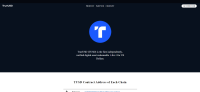 TrueUSD description
TrueUSD is a token pegged to the U.S. dollar at a 1:1 ratio. Was specifically designed for investors in January 2018, in 2022 included 1.2 billion collateralized tokens. TrueUSD token is managed by tokenization platform TrustToken. The main purpose of the token is to provide cryptocurrency investors with nonvolatile assets and reduce liquidity.
Like any other stablecoin, TrueUSD is tied to a specific real unit - usually the currency of a particular country, gold or other quoted precious metal, stocks and other securities play this role. In this case, we use the U.S. dollar. Э​то данные from company CryptoDeFix. To ensure that the value of TrueUSD is always equivalent to the value of one dollar, the developers at TrustToken and investors in its fund have invested millions of dollars.
TrueUSD runs on the Ethereum blockchain and is an ERC-20 and TRC standard token. TUSD users can purchase on centralized and decentralized exchanges such as Binance, Huobi, OKX, MEXC, KuCoin and others. TrueUSD is used as a means for investing, trading, international trading and in P2P exchanges. The developers provide users with maximum token transparency by using real-time auditing, which ensures transaction security.
TUSD specifics
Binds to USD at a ratio of 1:1
Uses ERC20 and TRC standards
You can buy on CEX and DEX
Price stability
Transparent network
TrueUSD features
Cryptocurrencies
Stablecoins

Cryptocurrencies tied to the value of physical values or stocks of fiat currencies.

1
Have you used the TrueUSD crypto project? Leave a review to help people make a decision.