Blockchain for creating metaverses.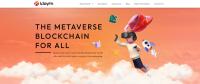 Klaytn description
Klaytn is a network for the creation of GameFi projects and metaverses. The blockchain was officially launched in June 2019. Klaytn is headquartered in Singapore, but it itself is the most popular platform in South Korea and is slowly starting to conquer the world. In 2021, Klaytn set up a non-profit foundation to develop a domestic blockchain ecosystem.
Klaytn is a complete toolkit for creating metaverses. It includes SDKs, smart contract libraries, chain explorers, oracles and bridges, and tools for integrating third-party projects. Klaytn uses the isolated IBFT consensus mechanism, which guarantees the integrity and immutability of data in the blockchain.
Klaytn supports the EVM format, allowing the blockchain to exist in the same way as Ethereum, supporting Ethereum users and new interface libraries. Klaytn is managed by the DAO system. It has a Governance Council (GC) made up of the world's leading enterprises, people from different industries and regions. Data from p​latform cryptodefix. They all form a network of validators who have the ability to vote and make changes to the blockchain. The KLAY blockchain token is a service token for fees and security.
Klaytn specifics
GameFi project creation infrastructure
Developer tools for DApp development
Proprietary IBFT consensus mechanism
Ethereum Equivalence support
Internal KLAY token
Klaytn features
Cryptocurrencies
Blockchain platforms

platforms for creating digital assetsv (tokens)

0
Have you used the Klaytn crypto project? Leave a review to help people make a decision.