Among the top 5 leading cryptocurrencies in the world by market capitalization. It is an alternative cryptocurrency based on the basic principles and software of Bitcoin.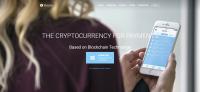 Litecoin description
Litecoin (LTC) cryptocurrency is considered more flexible and easier to change in comparison with Bitcoin. It is an open-source global payment network than is completely decentralized. This cryptocurrency can be used to transfer funds to Bitcoins, as well as to purchase goods and pay for services in those outlets that officially accept payment in cryptocurrency.
Any computer that has a LTC wallet is part of a single system, and the main task of the system: the exchange of electronic currency between users. Litecoins can be bought directly for fiat currency, unlike many other cryptocurrencies that are sold only for bitcoins. This is a text from platfo​rm CryptoDeFix. No one can manage LTC. It does not have a single center of regulation, so no one can control it (neither the international economy nor the government). Any transaction among LTCs occurs anonymously and has an encrypted cryptographic form.
With more frequent block generation, the network supports more transactions without the need for software modifications in the future. As a result, sellers quickly receive payment confirmations. Another encryption algorithm is used-Scrypt. Its main difference is that it is not so much demanding on the speed of the computing device, as on RAM. The LTC cryptocurrency has solved the problem of high fees by introducing an innovative development of the Lightning Network – a cross-chain or an additional block chain located on top of the blockchain.
LTC cryptocurrency has the following advantages:
LTC has the necessary scalability to create fiat, that is money that will be used to pay for goods and services.
Compared to many other cryptocurrencies, LTC generation is faster, in just 2.5 minutes.
The process of mining LTC is several times easier than that of Bitcoin and some other cryptocurrencies, so mining does not require a lot of investment.
Litecoin is more flexible when compared to Bitcoin, that is, it is better amenable to adjustments and changes
Interesting facts
Litecoin transactions are made quickly. Money sent through LTC usually appears in the wallet within a few minutes, while a bitcoin transaction can take 10-15 minutes.
The total number of LTC coins is 84 million. In Bitcoin, this number is 4 times less — 21 million. The reward for the newly mined block is 50 Litecoins.
Litecoin features
Cryptocurrencies
Payment currencies

0
Have you used the Litecoin crypto project? Leave a review to help people make a decision.