A blockchain platform for building Web3 infrastructure.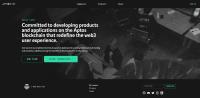 Aptos description
Aptos is a layer-1 blockchain that helps developers create decentralized infrastructure applications. Blockchain offers users high scalability, transaction speed and security. Aptos was created by former Meta developers who developed the Diem blockchain. Aptos will see the light of day in October 2022.
Blockchain aims at scalability, security, possibility of continuous improvement and reliability. Aptos is tightly integrated with the Move programming language for developing smart contracts, used to create high-speed, secure transactions. The blockchain is based on the Byzantine Fault Tolerance (BFT) consensus mechanism based on Proof-of-Stake. Aptos processes up to 150 thousand transactions per second through the use of modern technology.
There is a toolkit for the developers who are planning to create applications on Aptos. It's CLI (Command-line Interface) for configuring and deploining and CDK (Chemistry Development Kit) for creating Web3 applications. Developers can also take advantage of detailed documentation of how the blockchain works, if needed. Data from platform crypto​defix. The created applications will be scalable and updateable.
Aptos specifics
1-layer chain
DApps creation
Sharding Support
Development Tools
Scalable and updatable
High-speed transactions
New consensus mechanism
Aptos features
Cryptocurrencies
Blockchain platforms

platforms for creating digital assetsv (tokens)

0
Have you used the Aptos crypto project? Leave a review to help people make a decision.