Blockchain platform for creating decentralized financial applications.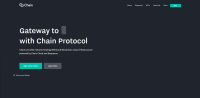 Chain description
Chain is a protocol for creating smart contracts and creating DeFi-applications. Chain infrastructure contains cryptographic tools and tools for developing financial services. With CHN tokens, users can receive discounts, pay fees and gain access to limited features. Chain's blockchain platform was launched in 2014.
Chain Core allows users to launch and manage blockchain networks or connect to an existing network. This will enable the tracking of the number of assets issued, tokens transferred, and existing assets within the network. Chain Core gives organizations and individual users the ability to manage a network, to maintain several different assets within a single network. The platform is designed to provide users with modern approaches to understanding financial systems, within the network the time to create a transaction, validation reaches milliseconds.
Within the Chain network, there is a Sequence ledger that allows organizations to securely track network tokens and transaction values. This is an article from com​munity CryptoDeFix. With Sequence, organizations can manage their financial assets, store them in a secure ledger and send them to other available networks.
Chain specifics
Fast and secure transactions
Proprietary ledger for assets
Support for multiple tokens within the same network
Moving tokens between networks
Asset quantity tracking and network management
Chain features
Cryptocurrencies
Blockchain platforms

platforms for creating digital assetsv (tokens)

0
Have you used the Chain crypto project? Leave a review to help people make a decision.