A cryptocurrency for secure and fast payments.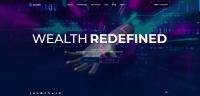 eCash (XEC) description
eCash (XEC) is a cryptocurrency based on the Bitcoin blockchain and is its fork. The positioning of the cryptocurrency is built around its use as an electronic means of payment. Earlier the cryptocurrency was called Bitcoin Cash ABC (BCHA), but since July 1, 2021 has changed its name to eCash (XEC). The cryptocurrency itself saw the light of day in November 2020.
The cryptocurrency uses the Avalanche (AVAX) consensus mechanism. Avalache is a Proof-of-Stake consensus mechanism and provides eCash with security and staking capabilities. XEC holders can be rewarded for storing currency and participate in voting for the future of the token (DAO). Individual eCash-based users can also independently create new tokens within the network (eTokens), they will have their own name, support, icon and decimal places.
Within the eCash network there are small denominations called Bits, they allow the cryptocurrency to have 8 decimal places. When in a bull market, cryptocurrencies with a similar value get a more stable and accurate valuation. Data from platform​ cryptodefix. eCash was created by the original developers of Bitcoin, who worked to solve Internet and financial privacy problems. They implemented the CashFusion protocol in the cryptocurrency, it provides privacy on the network, hiding transaction data. If necessary, users can disable it on their own.
eCash specifics
Buying or selling goods and services for a coin
Confidentiality of use
Ability to stake and earn rewards
Create your own eCash-based tokens
8 decimal places
eCash (XEC) features
Cryptocurrencies
Privacy currencies

Currencies focused on high security of transactions

0
Have you used the eCash (XEC) crypto project? Leave a review to help people make a decision.