A blockchain platform for easy creation of DAaps.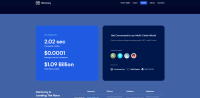 Harmony description
Harmony is a blockchain platform designed to make it easier for developers to create decentralized applications. Projects created on the ONE blockchain have high transaction speeds, low fees and scalability. The network was launched in 2019 and uses sharding technology at its core.
The Harmony network is built on the Effective Proof of Stake (EPoS) consensus mechanism. Harmony aims to solve the blockchain trilemma of combining the three main qualities of security, scalability and decentralization. To do this, the network uses a consensus mechanism and sharding. Also, the main difference from other blockchains is the presence of a system of cross-chain finances, users can conduct transactions with tokens of Ethereum, BNB, Bitcoin and other networks with the help of bridges.
Sharding in Harmony helps provide the network with scalability, decentralization and security. The network is divided into 4 parts that run in parallel. To distribute the load, the user can choose the type of shard they want. Information from catalogue cryptodefi​x.com. It is a validation, transaction, block creation and staking shard. ONE, Harmony's native token, is used in intranet fees, is a reward for a validator or delegate for block creation and is used in staking.
Harmoby specifics
High speed of transaction processing
Security through the DRG algorithm
Project scalability
Use of bridges
ONE token staking
Harmony features
Cryptocurrencies
Blockchain platforms

platforms for creating digital assetsv (tokens)

0
Have you used the Harmony crypto project? Leave a review to help people make a decision.