A decentralized blockchain platform for the operation of the Internet of Things.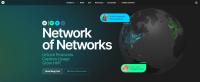 Helium description
Helium (HNT) is a decentralized network for the operation of the Internet of Things. Helium was launched in August 2019. Blockchain allows low-power wireless devices to communicate with each other. Informatio​n material from project CryptoDeFix. Helium is an alternative to wireless networks, satellite equipment, and mobile Internet, which provided the connection between devices.
The Helium network consists of over one hundred thousand devices around the world, they are wireless access points and are united in The People's Network. This network is integrated with the Helium blockchain and the HNT token, which is a service to be used to pay fees and incentives to access point owners. Some of The People's Network devices are also node-validators. Devices in the network use the LoRaWAN blockchain-based wireless communication protocol, and the network includes more than 820,000 devices in 173 countries and 62,000 cities.
The Helium network has a low bandwidth and is therefore only suitable for the secure transmission of small packets of data. The network is suitable for creating communication between such devices as air temperature sensors, parcel trackers, logistics monitoring systems and other devices.
The Helium blockchain uses its consensus mechanism called Proof-of-Coverage. It allows the access point to be randomly accessed and forces it to make a call to a nearby access point. This allows network to verify the claimed location of the points. It also uses the HoneyBadgerBFT consensus algorithm to reduce the load on points, which has allowed the most costly tasks to be given to validators. The NHT token can be staked and is used to reward validators and access point owners. It can also be mined.
Helium features
Cryptocurrencies
Blockchain platforms

platforms for creating digital assetsv (tokens)

0
Have you used the Helium crypto project? Leave a review to help people make a decision.