Algorand
by
Algorand Foundation Ltd.
A blockchain platform for creating next-generation DApps.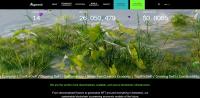 Algorand description
Algorand is a platform for creating decentralized applications based on new technologies. Blockchain was developed by Massachusetts University professor Silvio Micali in 2017. The goal of blockchain is to show the new possibilities of decentralized finance, increase the speed of transactions and scalability.
Algorand works on a new type of consensus mechanism, Pure Proof-of-Stake (PPoS), to verify blocks in a chain. It is designed to solve three cryptocurrency issues, which include scalability, decentralization and security. This consensus mechanism randomly selects 1,000 ALGO tokens to validate the next block, each token can become a validator. This provides decentralization with more validators in the network, the randomness of the selection reduces the load due to the lack of a large number of calculations.
The platform's native coin is called ALGO, with a supply of 10 billion tokens. The developers intend to distribute it by 2030. The staking mechanism within the network is built differently from PoS, here users only need to have 1 ALGO in their wallet to receive rewards. This information is fr​om catalogue CryptoDeFix. Also when adding a new block a user can get APY of 5-8%. ALGO is also used to pay fees within the network.
Algorand specifics
Pure Proo-of-Stake mechanism
Innovative approach to stacking
Native ALGO currency
Blockchain scalability
High transaction rate
Algorand features
Cryptocurrencies
Blockchain platforms

platforms for creating digital assetsv (tokens)

0
Have you used the Algorand crypto project? Leave a review to help people make a decision.