A blockchain platform for creating DApps.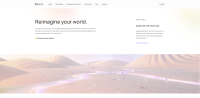 NEAR Protocol description
NEAR Protocol is a blockchain platform for creating decentralized projects. The blockchain works using the Proof-of-Stake consensus mechanism. This information is from catalogue cryptodefi​x.com. NEAR-based DApps can be developed with scalability, cross-platform and high throughput speed. It takes 5 minutes to launch an application on NEAR, according to the developers. The project launched in 2020.
NEAR uses delegated Proof-of-Stake and uses sharding to optimize performance. Unlike competitors' sharding, NEAR treats shards as parts of a single blockchain. This allows for higher application throughput, scalable projects, and standardized fees. The structure of applications created on NEAR automatically expands and provides high transaction speeds.
The NEAR infrastructure consists of several products:
NEAR SDK is developer tools for creating projects and structuring data for Rust and AssemblyScript.
NEAR Wallet is a wallet for token servicing.
NEAR Explorer is a tool for configuring smart contracts and network performance.
NEAR specifics
Deployment of DApps
High speed and scalability of projects
Work on PoS
Integration with Ethereum blockchain
Developer tools
Use of sharding
NEAR Protocol features
Cryptocurrencies
Blockchain platforms

platforms for creating digital assetsv (tokens)

0
Have you used the NEAR Protocol crypto project? Leave a review to help people make a decision.