A blockchain platform for creating and integrating GameFi projects.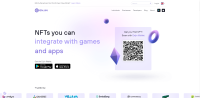 Enjin description
Enjin is a platform that powers NFT, games, and other projects. With Enjin, developers can create NFT items, distribute them, and incorporate them into their projects. The original project started in 2009 and was a gaming community, in 2017 the project was integrated with blockchain and turned into a cryptoplatform with NFT.
Enjin's interface allows the creation, transfer, storage, sale and integration of digital assets in blockchain games, DeFi projects and other areas. With Enjin, developers can provide value to any digital asset used in projects. This is ​an article from company cryptodefix.com. To help developers, the platform has its own CMS that allows them to create websites, stores, forums and fill them with content. Enjin serves as a means to create unique tokens and NFTs that will be cross-platform. This enables developers to start collaborating with other platforms and use digital assets created in Enjin to interact with multiple communities.
Enjin has an internal ENJ token that runs on the Ethereum blockchain. It helps simplify working with NFT, namely to maintain the value of the token created in Enjin. The ENJ token is used in meta-villains, blockchain games and DeFi projects. Enjin Coin is used to store and manage game items and characters. Tokens and NFTs created in Enjin are secured by ENJ.
Enjin specifics
Cross-platform token creation and NFT
Built-in CMS for website creation
Tokenization of game items
Token integration into projects
NFT Sales
Enjin features
Cryptocurrencies
Payment currencies

0
Blockchain platforms

platforms for creating digital assetsv (tokens)

0
Privacy currencies

Currencies focused on high security of transactions

0
Settlement Networks

Currencies that always have a stable value

1
Service cryptocurrency (Cloud services)

help transfer information and data to the Blockchai

0
Media and entertainment

Exist as a reward or pass to games or other entertainment resources

0
Stablecoins

Cryptocurrencies tied to the value of physical values or stocks of fiat currencies.

1
DeFi Projects
Blockchain types:
Ethereum

0
Have you used the Enjin crypto project? Leave a review to help people make a decision.