WAX
by
Exposition Park Holdings
A blockchain and token to create and maintain NFTs.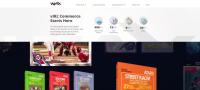 WAX description
Worldwide Asset eXchange (WAXP) is a special protocol token and blockchain to speed up and increase transaction security. WAX uses Delegated Proof of Stake (DPoS) as a consensus mechanism, giving it compatibility with EOS. WAX is often used in decentralized applications, games, and NFT. Blockchain appeared in 2017.
WAX has a set of tools to create and maintain dApps, trading platforms, and non-fungible tokens (NFTs). The tools include services to support transactions and include the WAX cryptocurrency wallet, SSO and OAUTH, the RNG service and the developer portal. The developers of WAX have also created vIRL NFT technology, allowing you to own things from the real world without having to deal with delivery.
The WAXP token is designed to regulate the blockchain ecosystem. This is a text fro​m platform CryptoDeFix. It allows users to staking it, participate in votes and be rewarded for bets. Using a bridge, the WAXP token can be converted to an Ethereum-based WAXE token. The DPoS consensus mechanism provides WAX with high security to resist corruption, the token owners can choose WAX guilds using the approval system.
WAX specifics
Tools to create dAps and NFTs
High transaction speed and security
DPoS consensus mechanism
Scalability
Staking and DAO WAX
vIRL NFT
WAX features
Cryptocurrencies
Blockchain platforms

platforms for creating digital assetsv (tokens)

0
DeFi Projects
Blockchain types:
Solana

0
Have you used the WAX crypto project? Leave a review to help people make a decision.