A smart contracts platform for digital assets and dApps.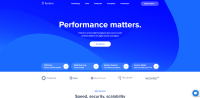 Fantom description
Fantom is a decentralized blockchain platform for smart contracts based on DAG (directed acyclic graph). The platform is quite productive and scalable. Data from company cry​ptodefix.com. Fantom supports decentralized applications written in Solidity and is also compatible with Ethereum Virtual Machine. The platform began its existence in December 2018.
Fantom allows you to create on its basis decentralized exchanges, NFT-platforms, wallets and other applications. The blockchain platform has the Lachesis aBFT (asynchronous Byzantine Fault Tolerance) consensus mechanism, which has several advantages: the ability to process transactions by independent nodes, no leader among nodes, high transaction completion rate (1-2 seconds), and operability when one third of nodes fail. Lachesis nodes store their own local DAGs from event blocks containing transactions. Validators exchange transactions and events, synchronizing them within a single epoch consisting of several minutes in duration.
The FTM token exists in three blockchains Ethereum (ERC-20), Binance Smart Chain (BEP-20) and Fantom. All three tokens are connected to each other through bridges. Native FTMs can be stored in Web3 wallets. The FTM token is used to pay fees, provide validator nodes and DAOs. FTM owners can transfer coins to a certain validator and get rewarded for staking.
Fantom specifics
High blockchain performance
Scalability
Compatibility with Ethereum Virtual Machine
Creating dApps
High transaction rate
Lachesis aBFT consensus mechanism
Fantom features
Cryptocurrencies
Blockchain platforms

platforms for creating digital assetsv (tokens)

0
Have you used the Fantom crypto project? Leave a review to help people make a decision.