ERC20 token, which has a similar value to Bitcoin.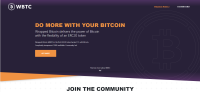 Similar to Wrapped Bitcoin
Wrapped Bitcoin description
Wrapped Bitcoin (WBTC) is a token with Bitcoin properties, running on the Ethereum blockchain. The value of WBTC is always equal to the value of the original Bitcoin. The token allows liquidity for DeFi protocols. WBTC was created to enable bitcoin holders to work with DeFi applications. The token appeared in 2019.
WBTC compared to other ERC20 tokens bring more liquidity to decentralized exchanges. WBTC also makes it easier to write smart contracts that contain a bitcoin transaction. Because WBTC is written on the Ethereum blockchain, the transaction speed is about 15 seconds, instead of 10 minutes in real bitcoin transactions.
There are several key players in the WBTC ecosystem. These include:
Custodians - institutions that store crypto-assets. BitGo is responsible for the storage of WBTC.
Merchants - play a key role in the distribution of WBTC through mining or burning.
Users - WBTC holders, can sell and buy the token.
WBTC DAO member - A member of the governing body that is responsible for changing the contract and for managing the traders and custodians.
WBTC tokens are protected by the parent blockchain, and it is secured using the Proof-of-Work consensus mechanism. Users can purchase Wrapped Bitcoin on decentralized exchanges such as Uniswap, Binance, OKEx, Huobi Global and others. Informatio​n from company cryptodefix.
Wrapped Bitcoin features
Cryptocurrencies
Blockchain platforms

platforms for creating digital assetsv (tokens)

0
Have you used the Wrapped Bitcoin crypto project? Leave a review to help people make a decision.