A token on the Ethereum blockchain used to support transactions.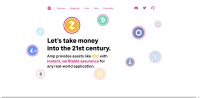 Amp (AMP) description
Amp is a digital collateral token that enables secure transactions in cryptocurrencies or in decentralized applications. The token helps Dapps developers reduce risk when dealing with smart contracts. Users can stake token, transfer and receive rewards. Amp began its existence in 2020.
As collateral, the Amp token insures the value of transactions until they are confirmed by both parties. The collateral tokens used in a transaction are returned once consensus is established between the parties. If consensus between the parties is not reached, the collateral value of the transaction in Amp tokens is burned to cover the loss. Transaction validation through Amp smart contracts takes place in a short period of time, which does not interfere with the underlying transaction.
Amp scales well and has source code. This allows any user to access the capabilities of the token and tweak them to the specifics of their project. Publication ​from site cryptodefix. When new Dapps start using the token, Amp increases its liquidity and decentralization, and the quality of the token operation is improved because of it.
Specifics of Amp
Ensuring transaction security
Support for any digital assets
Scalability
Open Source
Staking capability
Amp (AMP) features
Cryptocurrencies
Blockchain platforms

platforms for creating digital assetsv (tokens)

0
Settlement Networks

Currencies that always have a stable value

1
Service cryptocurrency (Cloud services)

help transfer information and data to the Blockchai

0
Have you used the Amp (AMP) crypto project? Leave a review to help people make a decision.