A meme-based cryptocurrency operating on the Ethereum blockchain.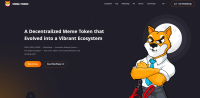 Similar to Shiba Inu (SHIB)
Shiba Inu (SHIB) description
Shiba Inu is an ERC20 meme token, part of the Shiba ecosystem. The token was created in August 2020 by an anonymous developer nicknamed "Ryoshi". SHIB has gained popularity and started to grow in value since its inception. The cryptocurrency runs on the Ethereum blockchain and has a Proof-of-Work consensus type.
The Shiba Inu ecosystem consists of three projects. These are the token, the ShibaSwap token exchange and the BONE service, where holders can vote on the fate of token development. Data from catalo​gue cryptodefix. Since a single token is practically worthless, many holders keep millions and billions of tokens in their wallets. To buy a token, you need to have Ethereum on your web3 wallet and connect to the ShibaSwap platform, where you can exchange cryptocurrency for SHIB.
The creators of the token support the user community in every way possible. They have the Shiba Inu Dog Rescue Foundation, which helps dogs with participation in Amazon Smile program. The developers also support The ShibArmy community, where people create art objects dedicated to the Shiba Inu.
Shiba Inu specifics
Its own ecosystem
Community support
Internal decentralized exchange
Stocking option
Proprietary NFT
Shiba Inu (SHIB) features
Cryptocurrencies
Payment currencies

0
Have you used the Shiba Inu (SHIB) crypto project? Leave a review to help people make a decision.