A platform for launching DeFi apps and working with smart contracts.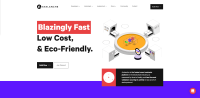 Similar to Avalanche (AVAX)
Avalanche (AVAX) description
Avalanche is an open-source platform for creating and maintaining decentralized apps. The platform's smart contracts are famous for their speed. Applications running on the Avalanche blockchain are fast, low cost and environmentally friendly.
Avalanche is based on the Proof-of-Stake (POS) consensus class, and the platform has upgraded it to be called the Snowman consensus protocol. This gives the platform additional transaction security and ensures the speed of smart contracts. DApps created on the Avalanche blockchain are scalable, customizable and interoperable with BSC and ETH applications. Avalanche consists of 3 different blockchains:
Platform Chain (P-Chain). A blockchain with metadata that coordinates validators.
Contract Chain (C-Chain). A conventional blockchain for creating smart contracts.
Exchange Chain (X-Chain). A blockchain that allows the creation of assets, exchanges between assets and transactions between different networks.
The Avalanche platform has its own AVAX token. It is used to pay fees within the network, so developers need AVAX tokens to run DApps on Avalnche. They can be purchased from exchanges and purchased with a credit card. This is a text from projec​t cryptodefix. AVAX are also used to secure the platform by means of stacking.
Specifics of Avalanche
Tools for creating DApps within the network
High speed smart contracts
High application speed, scalability, and sustainability
AVAX native token
Snowman consensus protocol operation
Avalanche (AVAX) features
Cryptocurrencies
Blockchain platforms

platforms for creating digital assetsv (tokens)

0
Have you used the Avalanche (AVAX) crypto project? Leave a review to help people make a decision.