DeFi-RPG game that runs on the Binance Smart Chain blockchain.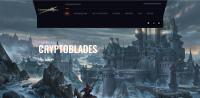 CryptoBlades description
CryptoBlades is an RPG game that uses NFT technology. In CryptoBlades, players can earn internal tokens by fighting battles against other players. CryptoBlades was released in the spring of 2021. The game exists only as a browser version.
In CryptoBlades, players engage in battles against opposing characters. For each fight, the user gains or loses internal tokens called SKILL. For the SKILL, users buy characters and weapons for them. This inf​ormation is from catalogue cryptodefix. In each fight the character is upgraded, which gives him more opportunities to win the fight. Players can have multiple characters, each character can participate in no more than 5 fights in a day. Items for the characters can be created from the blacksmith or bought at the market. Combat takes place in one click, the player chooses an opponent based on the chance to win and presses the "Fight" button.
To play CryptoBlades the user needs to connect the MetaMask wallet and buy SKILL tokens. Then a character must be purchased for the tokens, and only then can the game begin. With the tokens players can buy items on the market and receive additional income for their staking. Players pay a fee for each participation in the fight.
Key features of CryptoBlades
Getting tokens for participating in PVP battles
Character progression
Staking
Own SKILL token
Weapon crafting (NFT)
Low fees
CryptoBlades features
DeFi Projects
Blockchain types:
BNB Chain

0
Blockchain games
NFT support

0
Have you used the CryptoBlades crypto project? Leave a review to help people make a decision.