A decentralized protocol for borrowing on the Solana blockchain.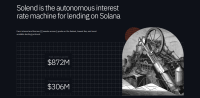 Solend description
Solend is a decentralized protocol on the Solana blockchain. Solend is based on an algorithmic approach, allowing users to participate in borrowing and lending. By lending tokens, users receive a reward. The project has been in existence since the summer of 2021.
Solend can be used in a browser or from mobile devices. To get started, you need to link a wallet that supports Solana and purchase SOL to pay the fee. Users have 17 assets available for interaction. Users can deposit funds as collateral to get a loan, based on the money spent a maximum limit is set. Information material from community Cr​yptoDeFix. Borrowing users pay a commission for the loan, each asset has a different value.
Users who supply the borrowing users receive remuneration in the form of APY (Annual percentage yield). It is shared by all users in the pool and issued in the same token as the offer. The project also has its own SLND token. With it, users can participate in the voting for the future of the project (DAO) and participate in the liquidity pools.
Solend specifics
Asset Lending
Lending assets
17 assets for interaction
APY reward
SLND token
Solend features
DeFi Projects
Blockchain types:
Solana

0
Lending platforms
Borrowing

0
Supplying

0
Staking

0
Market browser

0
Wallet connection

0
Order service integration or customization Solend
Modern people use 5 crypto projects on average and benefit significantly if the projects are integrated with each other and each of them is modified for business tasks. Integration projects and deep refinement of crypto projects are carried out by cloud integrators.
Чтобы найти интегратора для вашего проекта
Укажите адрес электронной почты:
Неверный адрес электронной почты.
На указанный вами адрес отправлено письмо с кодом подтверждения.
Введите полученный код:
Неверный код, попробуйте еще раз.
Have you used the Solend crypto project? Leave a review to help people make a decision.