Atomic Wallet
by
Atomic Protocol Systems OÜ
Decentralized crypto wallet with support for over 300 cryptocurrencies.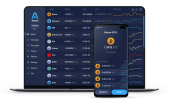 Atomic Wallet description
Atomic Wallet is a non-stadium cryptocurrency wallet. This text is from project CryptoD​eFix. The wallet supports over 300 digital assets, users can store and send cryptocurrencies to other users, exchange tokens and buy assets. Atomic Wallet is available as a desktop version for macOS, Windows, and Linux devices, as well as a mobile app. The wallet appeared in 2018.
When registering with the cryptocurrency wallet, the user does not need to enter login information, they automatically receive their number. The keys to the wallet are stored on the user's device, therefore, due to this, the risk of losing funds is reduced. Atomic Wallet allows users to store and transfer funds, exchange and buy digital assets. Atomic Wallet also features staking, which allows you to receive rewards for storing tokens.
Atomic Wallet has its own AWC token. It allows holders to receive transaction benefits as well as receive rewards for holding AWC. Atomic Wallet fees apply to credit card purchases of cryptocurrencies, Shapeshift and P2P transactions. Fees are paid in AWC tokens and can be as high as 5%.
Specifics of Atomic Wallet
Support for over 300 tokens
Storage, purchase and exchange of digital assets
Staking
Fees up to 5%
Proprietary AWC token
Atomic Wallet features
DeFi Projects
Blockchain types:
Ethereum

0
Asset Management Tools
Buy and selling assets

Ability to buy or sell cryptocurrency or DeFi assets

0
Real time charts

Real-time viewing of asset values

0
Setting limits

Setting trading limits for DeFi assets

0
Wire transfers

Withdrawal and deposit of bank funds

0
Multi-account support

0
Have you used the Atomic Wallet crypto project? Leave a review to help people make a decision.